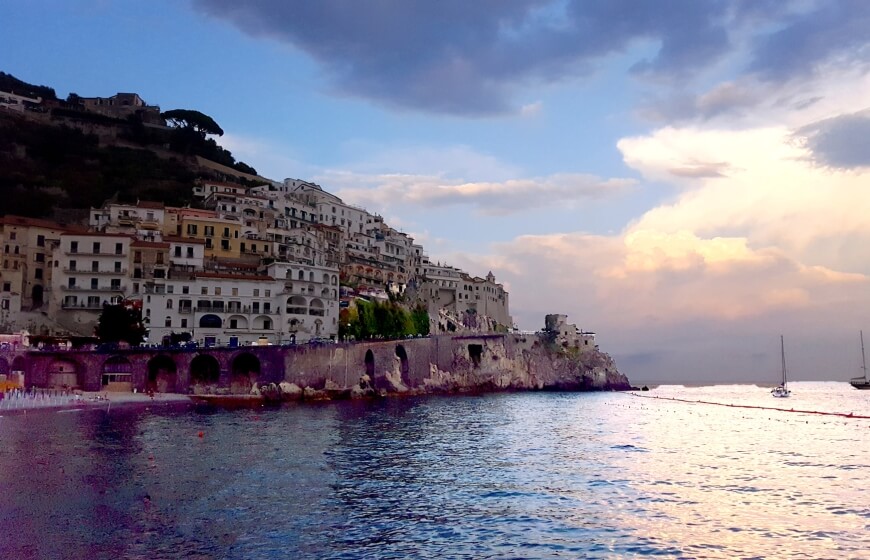 Marina di Conca deserves a very special mention on this list. The Marina di Conca is surrounded by one of the most suggestive bays of the Amalfi coast, with its houses literally clinging to the rocks of the overhanging cliff.
Summer and secret homes in the 1950s and 1960s, they hosted the international jet-set on holiday on the Amalfi Coast – Jacqueline Kennedy, the Agnelli Family, Carolina of Monaco – to name just a few.
Marina di Conca is the typical fishing village, where you can still taste the catch of the day in the two picturesque restaurants on the beach. The beach can be reached on foot along a very hair raising staircase.
For the more sporty and adventurous it is certainly an experience, but remember that the steps will wait for you on your return!
Without a doubt, reaching the beach by sea has a charm and comfort not comparable! If you want to opt for a sunset or moonlight bath, accompanied by a dinner away from the crowds, we can only advise you to try the evening experience, taking advantage of the boat transfer service that the owners of the two restaurants offer, on request, from the pier of Amalfi.
Then remember our advice: don't miss the pasta and zucchini alla scapece. You can't miss this experience!