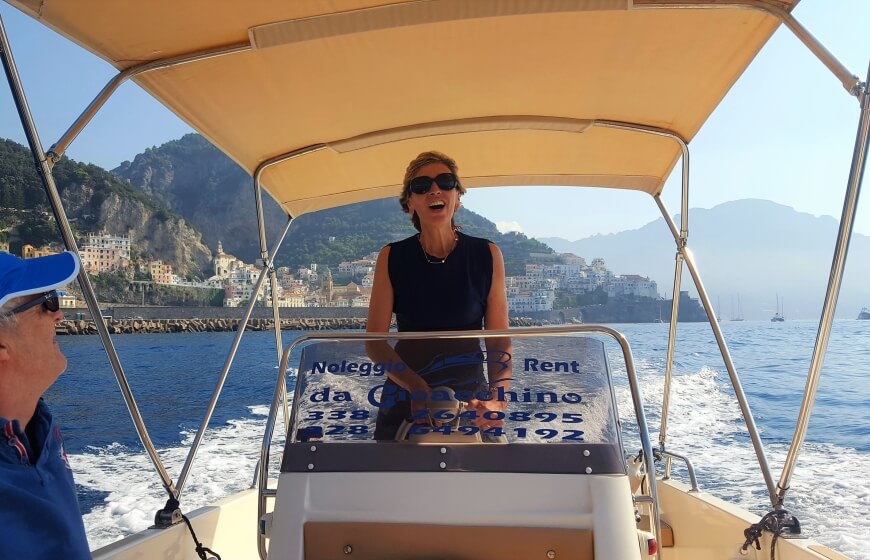 The best way to enjoy the landscape of the Amalfi Coast and breathe the breeze is to rent a boat or a dinghy. They are simple to drive safely but fast at the same time to reach the most enchanting beaches along the coast, many of them only reachable by sea.
The half-day trip starting around nine in the morning and returning at lunchtime gives the opportunity to visit much more during your spare time in the afternoon or you can choose a full immersion a whole day and stop for a snack in one of the many restaurants "by the sea" along the coast between Amalfi and Positano.
If you want to opt for a day in total relax alone or with friends then Amalfi also offers the chance to rent a more powerful boat with a sailor that includes towels, prosecco on board and a visit to the island of Capri where it is possible to stop and have a swim under the magnificent Faraglioni and to visit the island for a couple of hours.
Price starts from 150 euros to 1000 euros for a boat with sailor, it is not necessary to book in advance but it is recommended to decide when you arrived by checking the sea and wind conditions to enjoy the most beautiful outdoor trips.
Do not miss the opportunity to navigate the stretch of sea between Amalfi and Positano, the most suggestive and without particular dangers except to be cautious, because it is a stretch of coast very busy with small, large boats, ferries and sailboats.
Whether you opt to discover the coast by yourself or with an expert sailor or if you decide to do it by land, there are beaches that you cannot miss to enjoy your outdoor activity program on the Amalfi Coast.
Swimming and sailing along the Amalfi Coast is one of the outdoor experiences that combines vacation and feelings.